ABOUT MSCA
The Manitoba School Counsellors' Association (MSCA) is a special area group of the Manitoba Teachers' Society, made up of individuals working or interested in the field of guidance and counselling. Our objectives are to promote and develop guidance and counselling services for children and youth, and to promote and provide training for school counsellors and professionals in related areas. MSCA provides an open forum and network for discussion of current issues in school counselling through our monthly meetings, our quarterly journal (MSC), and professional development opportunities.
Au sujet de l'ACSM
L'Association des conseillers scolaires du Manitoba (MSCA ou ACSM) est un groupe spécial de la Manitoba Teachers' Society, composé de personnes passionnées ou intéressées dans le domaine du counseling et de l'orientation scolaire. Nos objectifs sont de promouvoir et de développer des services d'orientation et de counseling pour les enfants et les adolescents, ainsi que faire la promotion des formations pour les conseillers scolaires et pour les professionnels œuvrant dans le même domaine. MSCA ou ACSM offre un forum et un réseau ouvert afin de discuter des enjeux actuels dans le domaine du counseling scolaire par le biais de nos réunions bimensuelles, par l'entremise de notre revue biannuelle (Manitoba School Counsellor, MSC) et par les sessions offertes de développement professionnel.
MEMBERSHIP
The MSCA membership includes people from a wide variety of professions including school counsellors, resource teachers, administrators, therapists, social workers, social service agency workers, vocational educators, vocational rehabilitation counsellors, career counsellors, university professors, and government officials. The association is comprised of a volunteer board. Learn about becoming a member.
NEWS & EVENTS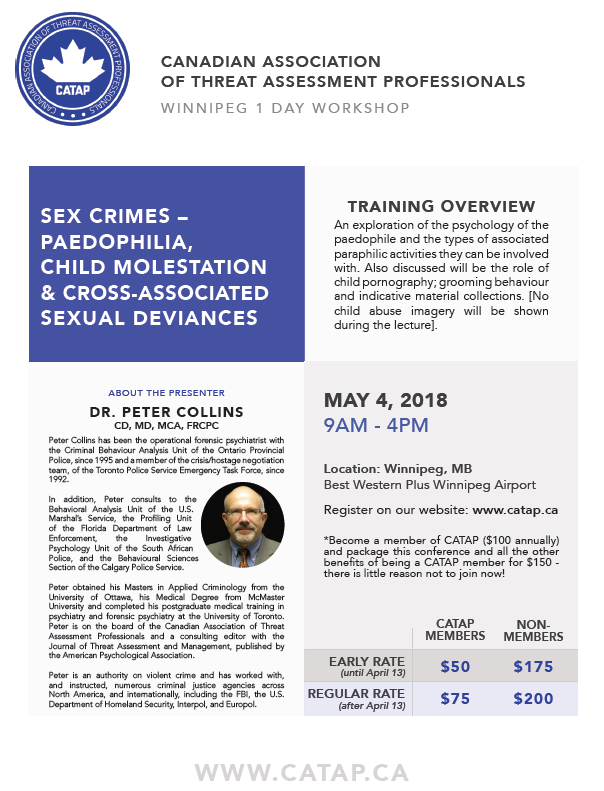 The Canadian Association of Threat Assessment Professionals (CATAP) presents:
Sex Crimes – Paedophilia, Child Molestation & Cross-Associated Sexual Deviances
This one-day workshop is an exploration of the psychology of the paedophile and the types of associated paraphilic activities they can be involved with.  Also discussed will be the role of child pornography; grooming behaviour and indicative material collections. [No child abuse imagery will be shown during the lecture.] Download the (PDF) brochure.
Date and Time: Friday, May 4th 9am - 4pm
Facilitator: Dr. Peter Collins
Location: Best Western Plus Winnipeg Airport, Winnipeg, MB
Cost: Early rate (until April 13) $50 for CATAP members, $175 for non-members. After April 13, CATAP members pay $75, non-members pay $200.
---
Canadian Counselling and Psychotherapy Association (CCPA) Annual Conference
The Canadian Counselling and Psychotherapy Association (CCPA) is holding their annual conference in Winnipeg on May 10 - May 13. Sign up here.
Headliners for the event are:
Don Burnstick on Healing Through Humor: Laughter is Good Medicine
Michael Hart on Cultural-Based Helping Practices: Understanding the Continuum
Anne Bisson on The DNA of Happiness
Tayyab Rashid on The Next Frontier – Integrating Yin & Yang of Human Experience
---
Scholarships
Also, it's time to be thinking about applying for our scholarships! These awards our given out at our AGM which will take place the end of May or Early June. A detailed information will be sent out in a future email and the information will be posted on our website when the event is finalized. It is always a wonderful evening so I hope you all will be able to join us!
You can find all the information needed to apply for scholarships on the Awards page.
MSC Magazine
Watch your mailboxes for our upcoming Spring MSC magazine! Download a PDF copy here.
If you are interested in being a part of the MSCA team for the 2018/19 school year please contact Jennifer Stewart.
---
CONSTITUTION PASSED AT AGM, AWARD AND SCHOLARSHIP WINNERS
At our Annual General Meeting on May 29th we passed our new constitution and welcomed our new board members and executive members.
Executive Members
President: Jennifer Stewart
President Elect: Joelle Emond
Secretary: Jennifer Streilein
Media Coordinator: Shamain Hartman
Awards and Scholarships: Carolynne Pitura
Social Coordinator: John Hasenack
Jeff Cieszecki: MTS Provincial Executive Representative
Kathryn Roberts: Consultant, Guidance and Counselling, Student Services Unit, Program and Student Services Branch
Dr. Jan Stewart: Manitoba School Counsellor (Editor), U. of Winnipeg Representative
Board Members
Divisional Representatives
Natashia Herring- Prairie Rose School Division
Megan Donald- Winnipeg School Division
Kelly Manveiler- Seine River School Division
Nicole Gaurtron- Division Scholaire Franco Manitoban
Lisa Bridges- Brandon School Division
Jennifer Streilein- Seven Oaks School Division
Danielle Savage- Pembina Trails School Division
We honoured and celebrated our award and scholarship winners.
Congratulations to our scholarship recipients: Danielle Savage, Nicole Rosevere, Natashia Herring, and Kelcie Terrick.
Congratulations to Mia Guenther on receiving the Margaret Woods Award for Outstanding Achievement for her work in play therapy in Seven Oaks School Division and her work at the University of Manitoba.
Congratulations to Dr. Jan Stewart for receiving the R.J Cochrane Award for her outstanding work for through the University of Winnipeg. We appreciate her research contributions working with refugee students inside multiple school divisions and supporting teachers throughout the province.  We are grateful for her long term commitment to Manitoba School Counsellors' Association and the variety of tasks she has taken on for the group.
Manitoba School Counsellors' Association wishes you all a great end to the school year and a wonderful summer break!
Our meetings and PD events for the 2017/18 school year will be posted in September.